Welcome to the final issue of Conversations@Tangible for 2021.
As the world experiences the effects of a global pandemic, businesses are driven to adapt and reshape to meet dynamic demands of a new normal. With governing bodies enforcing lockdowns throughout the world, demands for goods and services have shifted from physical stores to online platforms. Allowing online businesses to enjoy exponential sales with the ongoing pandemic, this further highlights the importance of rapid digitalization.
In this issue, Conversations@Tangible focused primarily on extending conventional businesses outreach through a multitude of digital possibilities. Tangible will be sharing insights on the dynamics of consumer behaviours and how adoption of technology such as digital business processes, optimised mobile websites, implementation of effective SEOs, and employment of brand strategies to enhance businesses competitive edge. 
---
Insight 1: New consumer behaviours are reshaping the retail industry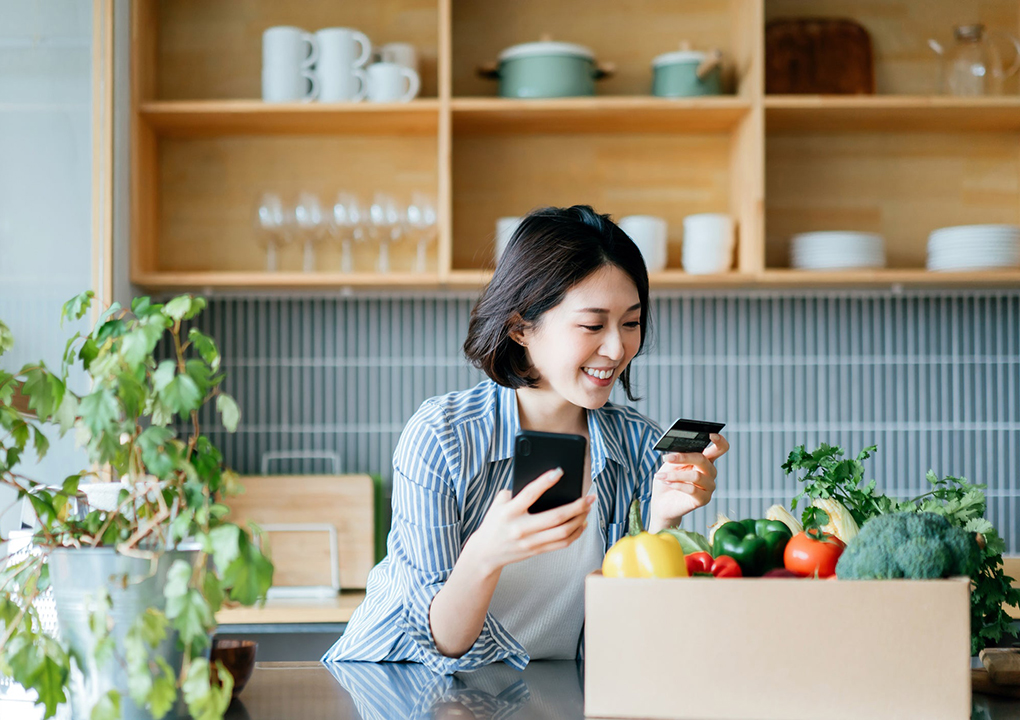 Digital shopping is here to stay

According to a PWC report, there has been a significant shift to online shopping as people have been confined by lockdown and predominantly work from home. The pandemic has changed people's lifestyles, values, and purchasing habits, and according to Global WebIndex research, most people are focusing more on wellness and self-care. The results are consumers all over the world are purchasing items that were rarely purchased online prior to the pandemic, such as groceries, over-the-counter (OTC) medicine, household supplies, personal care products, virtual health care, fitness products, and home improvement products.
The main drivers for online purchases are home delivery, cheaper prices and the convenience of shopping anytime, anywhere.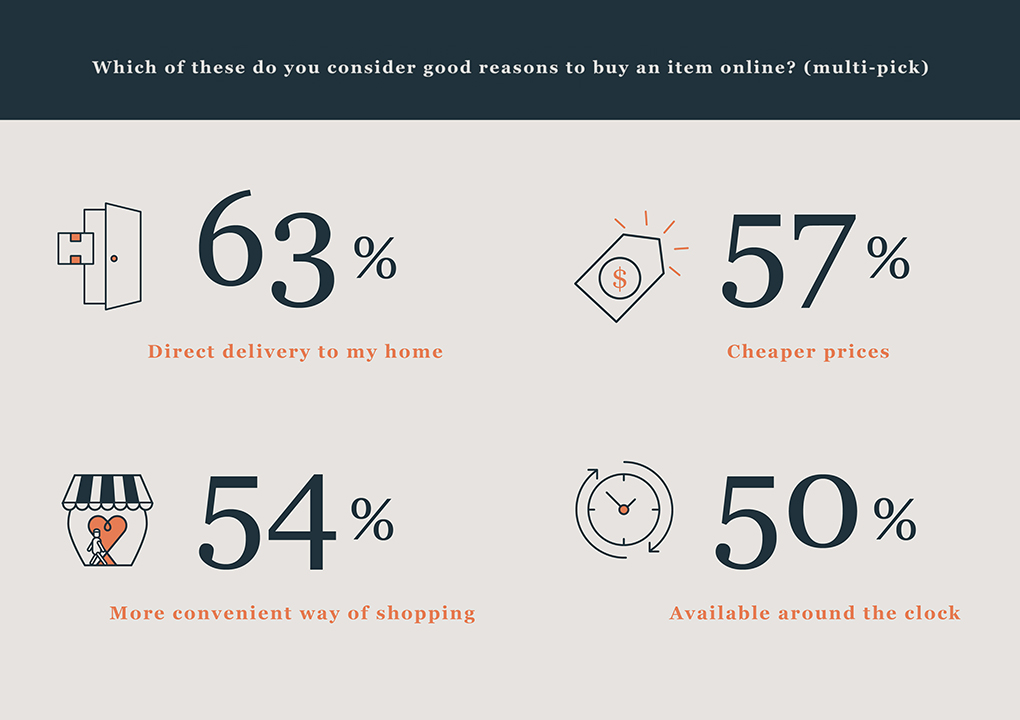 Source: Statisca
You can see that consumers desire for convenience, immediacy, and simplicity has increased. According to a Shopify study, the shift to online shopping will likely continue even after the pandemic. However, behaviour changes are not linear, and their stickiness will be determined by how satisfied they are with their online experiences.
---
Pivoting to digital channels and devices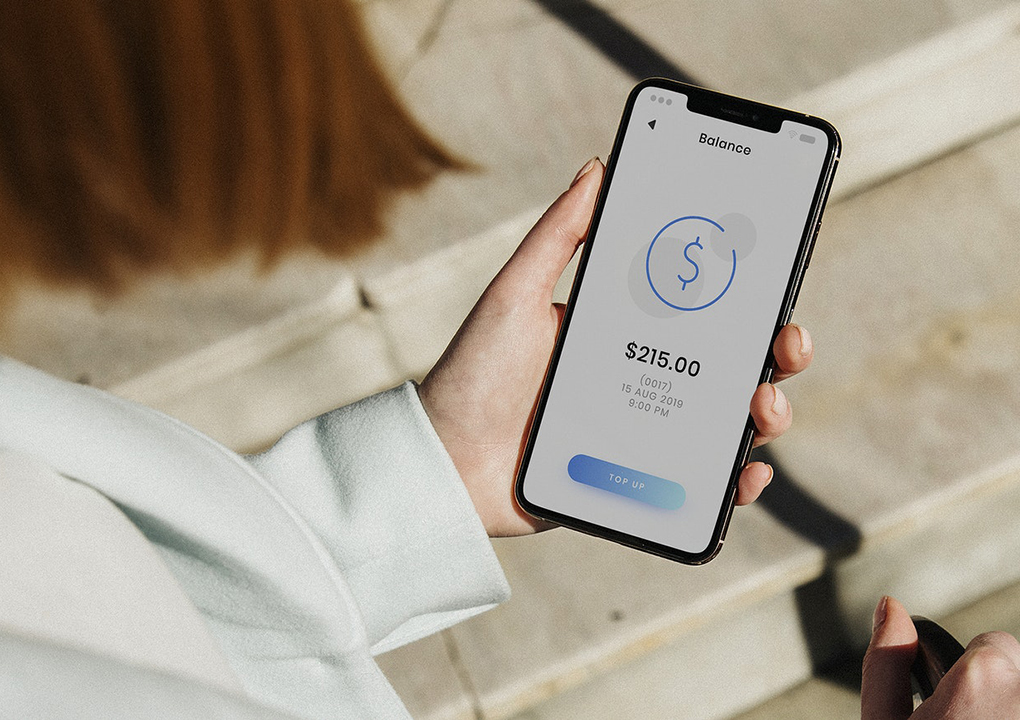 Source: Statisca
As more people buy products online, there is an increase in demand for contactless payment. According to eMarketer, the number of people who used proximity mobile payments in 2020 increased by 22.2% year on year. In Singapore, it was reported that the number of UOB customers using PayNow for the first time increased by 64% year on year in the first three quarters of 2020.
According to a Euromonitor study, consumers are increasingly turning to their mobile devices to complete purchases, demonstrating how mobile has become the center of the consumer's world and commerce activities. More than half of all digital commerce spent globally was done using a mobile device for the first time in 2020.
As consumer behaviour changes, so does their relationship with the digital channels they use to research and purchase products. Consumers are increasingly connecting with brands virtually, making purchases via livestreaming, and demanding new technology and delivery methods to support the e-commerce boom.
---
Opportunity: Establish digital operations & create innovative digital shopping experiences
The shift in consumer behaviour and digitalisation are causing unprecedented change in the business world, disrupting operations, business processes, and customer experiences. Businesses must innovate in three areas in order to establish a digital operations and presence for their customers:
Business models

Product and services

Business processes
---

Digital Business Model
Businesses that want to grow and stay ahead of their competitors must embrace digital transformation. It is time to explore a new digital business model that places the customers at the centre of digital strategy.
The following are 8 kinds of digital business models: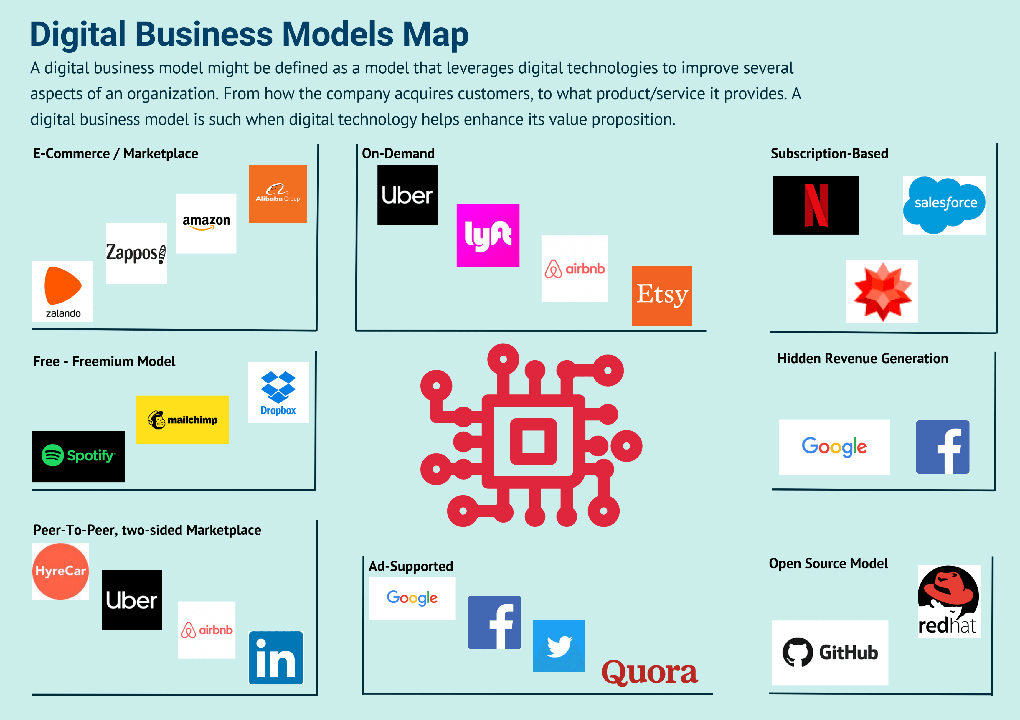 Source: FourWeekMBA
Visit here to learn more about each model and choose the right model for your business.
---
Developing a successful digital business model 
 To achieve organisational innovation, every aspect of a business must work together in the same direction. A Business Model Canvas (BMC) is an excellent tool for assisting businesses in visualising and positioning business models for growth and innovation.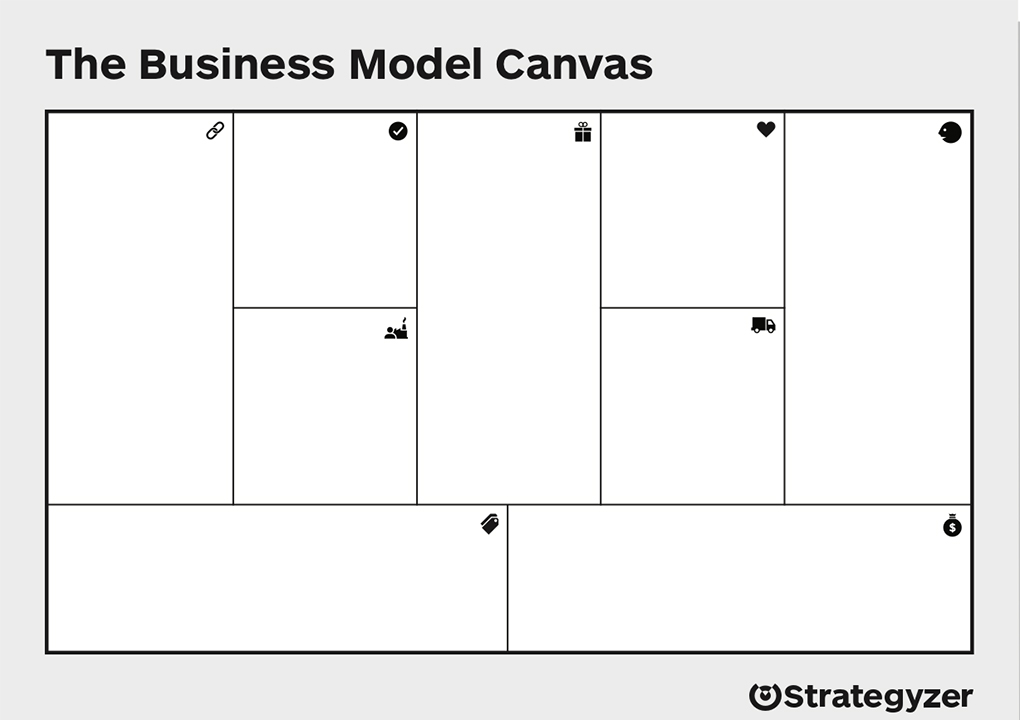 Source: Strategyzer
The Business Model Canvas is a standardised language for describing, visualising, evaluating, and changing business models. It describes the logic behind how a company creates, delivers, and captures value. Using a BMC will provide you with insights into your consumers, which value propositions are offered through whatever channels, and will help you communicate your goals to the team.

The BMC breaks your business model down into easily-understood segments:
Customer segments
Value proposition
Revenue streams
Channels
Customer relationships
Key activities
Key resources
Key partners
Cost structure
By delving into these aspects of your business, you can identify and address areas for improvement. It also reveals clear paths for you to follow when developing your organisational innovation strategy.
To learn how to use a business model canvas, check out this site for a step-by-step guide.
---
Product & Services
As consumers desire for convenience, immediacy, and simplicity grows, businesses must focus on developing innovative digital experiences that make consumers lives easier. Begin by connecting the online and offline worlds so that customers can do business with you whenever they want.
Prioritising mobile shopping experiences

Consumers want everything in the palm of their hands, which is why many of them use their mobile to research product information, compare prices, and read consumer reviews before purchasing the product. Businesses must improve their online capabilities in order to compete with competitors who are only a click away.
It is critical that your mobile site or app delivers what customers want while also providing a good mobile user experience that keeps them coming back for more.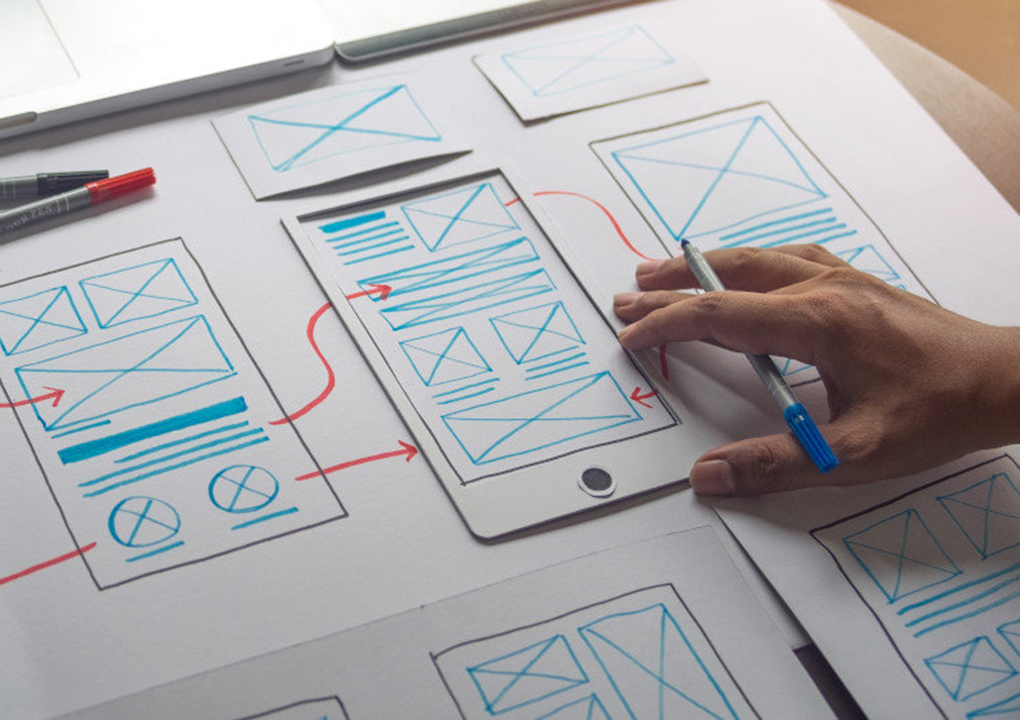 ​​To provide a good user experience, the mobile site or app should:
Be functional and simple to use
Include features that allow users to complete tasks and achieve their goals on the mobile site or app 
Clutter-free
Make sure that pages are not cluttered with information and that navigation steps are kept to a minimum. Arrange the functionality and content in a logical order to assist users in finding information and completing tasks
Have an excellent user interface design
The interface design is the first thing that users see, and it influences their perception of the mobile site or app. It is critical to enhance your brand's visual elements within the interface and use visual aids to guide the user through the interface. Perform a

heuristic evaluation

to improve the usability of your digital product
Live-streaming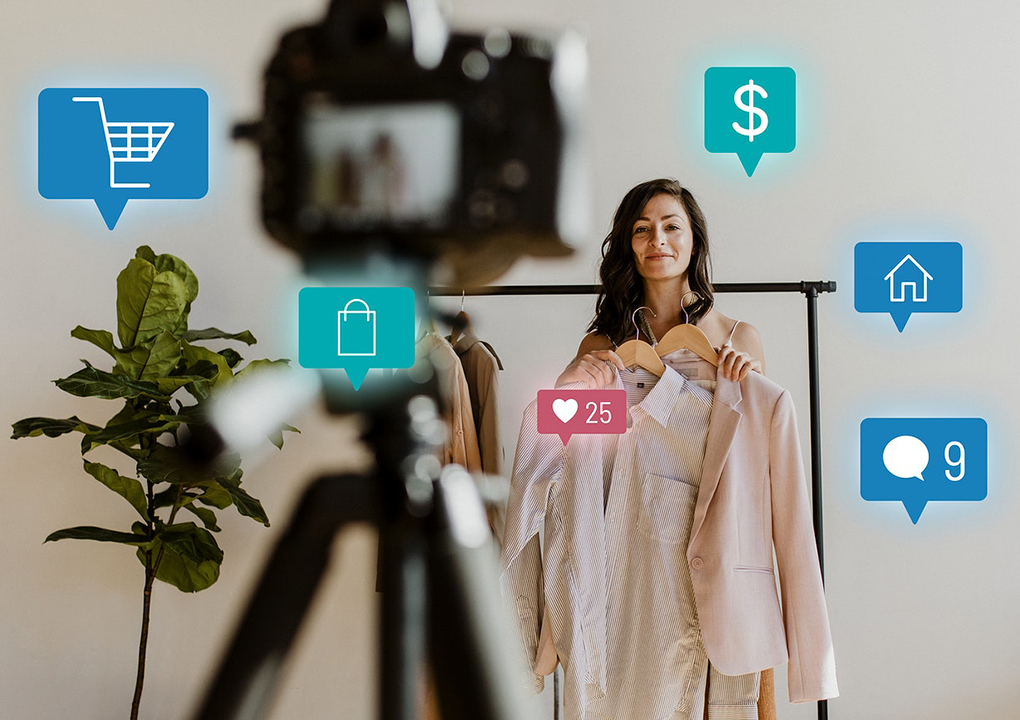 With an unprecedented health crisis keeping people indoors and limiting in-person engagement, consumers are turning to live streams to discover, research, and purchase products (part of customer decision journeys).
Consumers can watch models or influencers showcase and demonstrate a product by modelling the clothes for them, as well as ask questions via the chat function and make purchases during live stream sessions. Aside from interaction, live stream gamification enables customers to participate in quizzes and contests to bid on products or win discounts. These addictive elements in live stream shopping simply keep customers returning for more sessions.

Platform to consider for live-streaming:
Instagram Live
Facebook Live
Tiktok live
Twitch
Linkedin Live
Youtube Live
Augmented Reality (AR)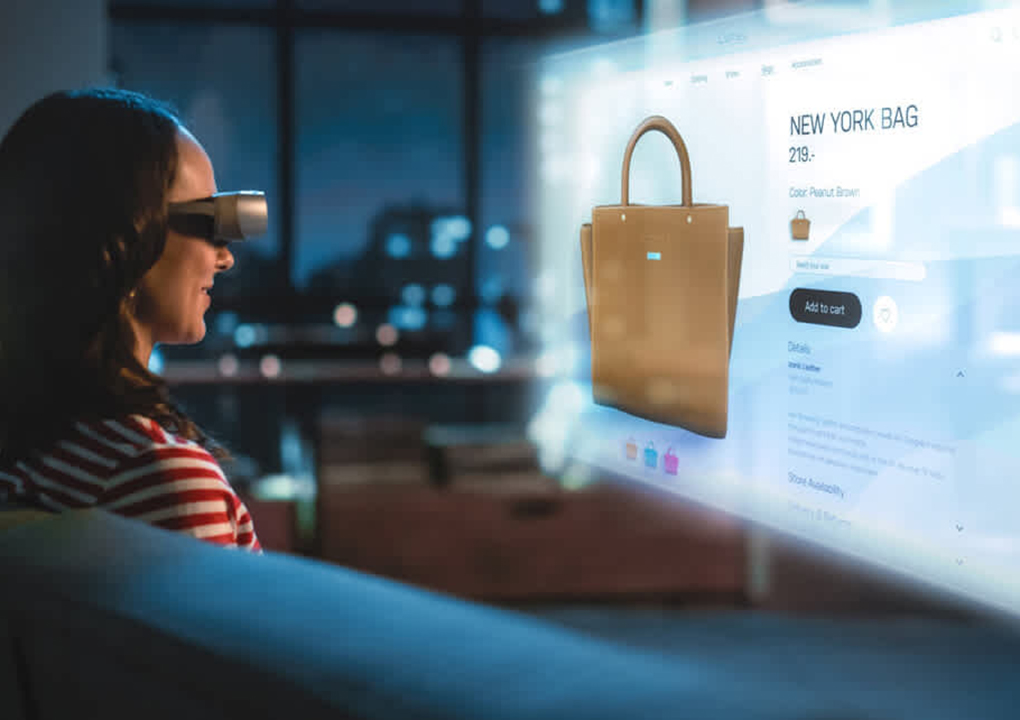 The incorporation of augmented reality (AR) aids in simulating in-person shopping experiences, enriching the relationship between consumer and brand at any time and from any location. When customers shop, customers can use AR to visualise and customise products in a 360-degree realistic experience. According to Treekit, 61% of consumers prefer stores that offer augmented reality experiences, and 40% would pay more for a product that could be customised in augmented reality.
The benefits of using AR can:
Increases conversion rates and decreases returns for clothing stores

Combines traditional retail and digital experience

Improves brand recognition; strengthens advertising campaigns

Displays additional information about the products displayed, enhancing the shopping experience
Source: Retaildive
Making delivery quick and simple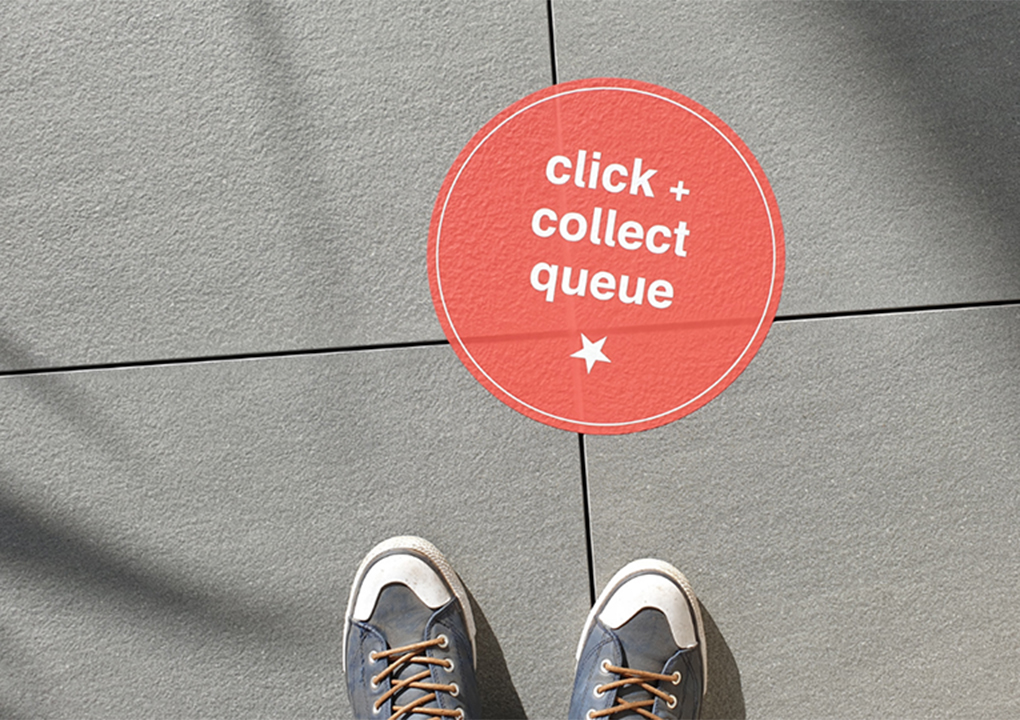 Today's consumers expect everything to be delivered quickly, including options for home delivery or self-pickup in your online checkout process is the way moving forward. According to Shopify data, self-pickup customers are 13% more likely to complete their online purchase and spend 23% more than regular shipping customers. Self-pickup options are faster and less expensive than shipping, and they provide another opportunity for customers to return to your store and interact with your brand in person.
---
Business process
Consumers today expect businesses to deliver products and services quickly and with a seamless user experience. They are demanding a complete overhaul of business processes from companies across many industries – such as intuitive user interfaces, 24-hour availability, real-time fulfilment, personalised treatment, global consistency, and zero errors.
Companies must speed up the digitization of their business processes by minimising the number of steps required, reducing the number of documents required, developing automated decision making, and dealing with regulatory and fraud issues.
These transformations will improve collaboration and communication among teams, customers, and the achievement of customer-facing and internal goals.
---
Insight 2: Understanding consumer shopping journey 
Before, during, and after an online transaction, consumers usually follow a logical sequence of procedures. Understanding how consumers behave during the journey of shopping for certain products or services can help brands and businesses to acquire new customers, while also engaging and retaining existing ones.
The consumer journey is made up of all the stages taken by a user to achieve their goal.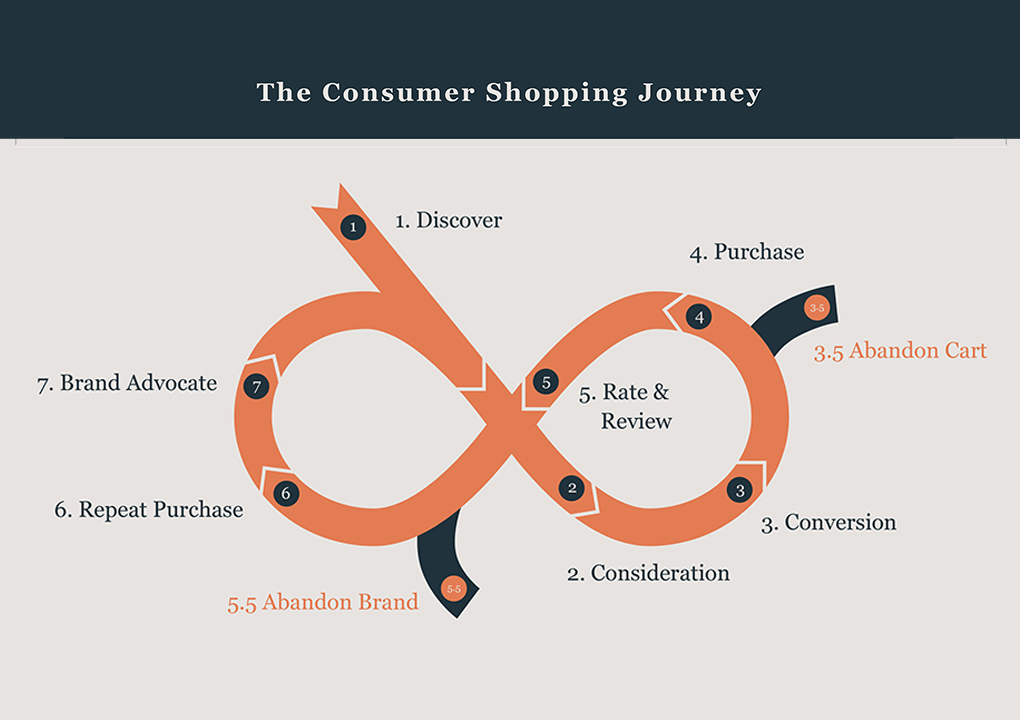 Source: Insightsinmarketing
1. Discover
Find out more about the items and services to buy
2. Consideration
Reading online reviews and conducting research both online and in-store before making a purchase
3. Conversion
Decide when and where to purchase a product or abandon the cart
4. Purchase
Making a first-time purchase of products or service in a store or online
5. Evaluate
Rate and review the product and experience using a mobile device or computer
6. Re-purchase
Choose whether to buy products again online or in stores, or to abandon a brand
7. Brand Advocate
Use word of mouth, social media posts, and online reviews to inspire other consumers to discover, consider, and purchase products and services
According to Think with Google 2021 report, hundreds of millions of people use Google every day to find, discover, and shop for the things they care about. There are numerous touch points along the consumer shopping journey where brands or businesses can reach out to them while they browse, engage with them while they research, and eventually convert them from browsing to purchase. By implementing SEO strategy, brands will be able to easily reach out to consumers while they browse on Google.
---
Opportunity: Align your SEO strategy with your consumer's journey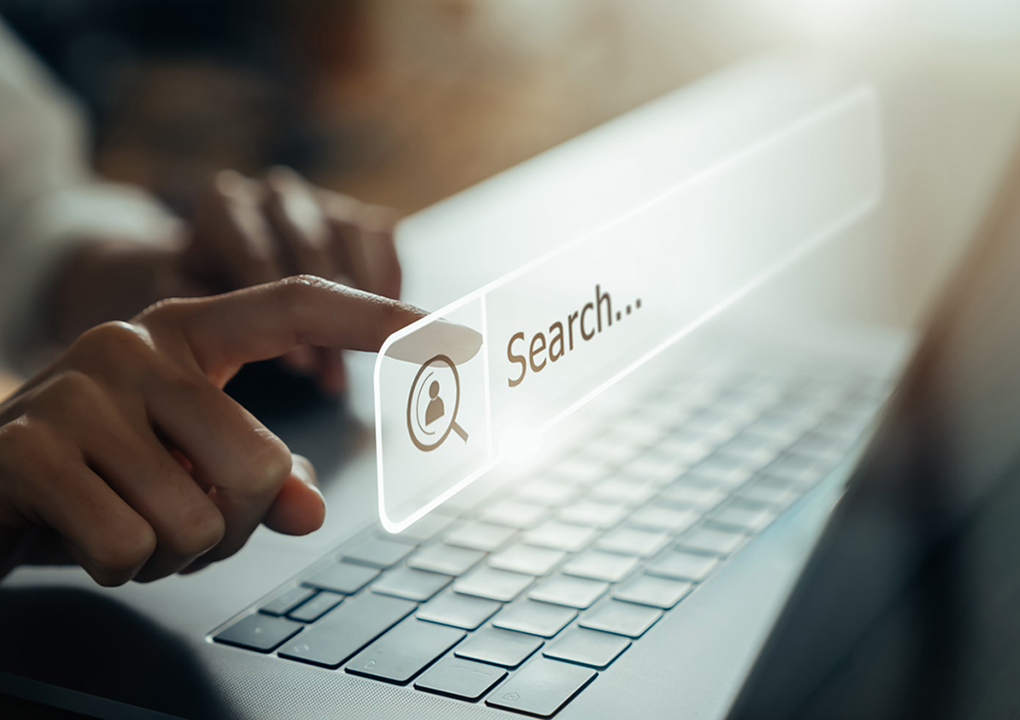 In order to align with consumers during the discovering / consideration or deciding stage of the journey, it is important that the topics or keywords are optimised to what the consumers are looking for. That is where SEO (search engine optimization) comes into play. In layman's terms, it refers to the process of improving your website to appear more prominently when people search for products or services related to your company on Google and other search engines.
Rule of thumb: Be the answer when they search.

Put yourself in the shoes of the customer and consider their goals, pain points, and objectives when looking for a product or service. You should be able to identify keywords, problems, goals, and terminology used by your consumer once you have a clear understanding of them. Then you can begin implementing them on your website, such as H1 tags or headlines, page titles, page copy, and image alt text.
The next step is to understand the different traffic channels and how it helps drive traffic to your website.

There are 5 core traffic channels:
1. Organic traffic
Visitors did not find your website through a paid campaign or any other means. They were brought to your site based on the keyword that they entered in the search engines
2.Direct traffic
Visitors landed on your site by typing your website address directly into the browser
3. Referral traffic
Visitors came to your site via direct links on other websites (exclude search engines). This helps to increase your overall web authority. The more authoritative the website that links back to you, the higher your "page rank" in Google's eyes
4. Paid traffic
Visitors landed on your site through paid banner ads. Paid social ads are advertised directly to your targeted consumers
5. Social traffic
Visitors visited your website through social media channels – Facebook, Instagram, Linkedin, Twitter and others 
Once you have a better understanding of the various traffic channels, you can begin implementing various methods to increase the traffic to your website. The more visitors your website receives, the more potential customers you will have.
---
Insight 3: Lower brand loyalty
With the shift in consumer shopping behaviour during the pandemic, businesses must digitise their offers, such as online shopping and live streaming. Simultaneously the pandemic has accelerated the deterioration of brand loyalty as:
Search engines provide more choice

Consumers are exposed to different brands as a result of more reviews

Online shopping incorporates price and/or delivery into the decision-making process
Source: eMarketer
As a result, consumers are shopping out of necessity, and brand loyalty is lower than it has ever been. According to Mckinsey research, more than 75% of US consumers intend to continue with their new shopping behaviour after the pandemic. Brands must capture consumers attention and strengthen their engagement with customers
---
Opportunity: Build trusted customer relationships
To build brand loyalty, businesses must first understand customers priorities and purchasing habits, and then align what they stand for with what their customers care about. This will make a good first impression and improve the customer experience.
Questions to ask to elicit insights that will strengthen people's perceptions of your brand:
Brand Positioning:
How do you differentiate your brand from competitors, but what is your brand doing to address issues that really matter to your customers?
Brand Perception:
Does your brand make an immediate and favourable first impression?
Brand Awareness:
Does your company solicit customer reviews and respond to it?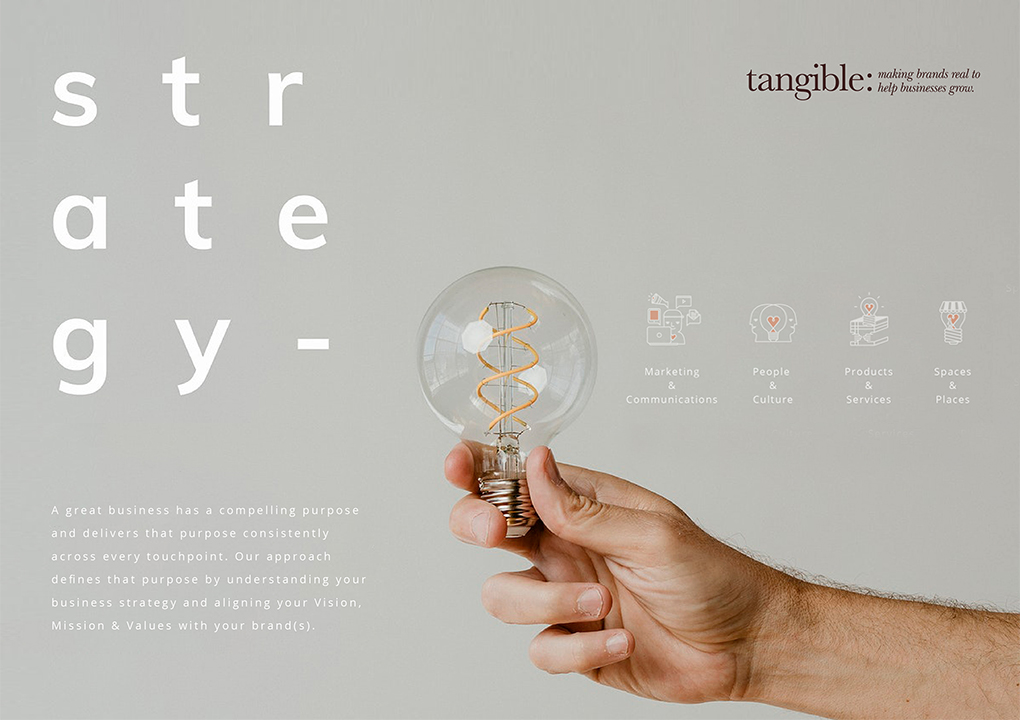 To deliver your brand's purpose consistently across all touch points, you should use a brand strategy framework that provides you with a long-term plan to achieve goals that will result in customer identification and brand loyalty.
For more information on how Tangible can assist you with your branding, or services such as designing a user-friendly mobile optimized site or app and improving your site SEOs, please contact us over here.
The Tangible team wishes you a hopeful, successful and fulfilling new year as we enter 2022. And, of course, thank you for stopping by. See you next year.
Share this article